Ren Hang
Photography 2014 - Ren Hang
Ren Hang is a Chinese male photographer. I selected him as the design inspiration of the butt sculpture that  I did for the Handmade project in the theme of feminism. I wanted to present the spirit of the power and freedom of women without any sexualization from the public. Women in Ren Hang's perspective and picture are always beautiful, daring, and free in bold colour. He doesn't want a perfect body and shapes like a model, but natural and pure. They were not models, but his friends and fans often shot in his tiny high-rise apartment. In my stage of design development, I was inspired by his works (on the top) by combining the shape of a butt that was covered by a mask. The concept of the composition was about sexualised symbols, that is why I thought of using the shape, often portrayed as a sexual body part. In his own world of beauty, the bodies become monuments, skin becomes sculpture; he cleverly fuses together elements such as sexual organs, limbs, and nature in all its glory. 
Ren Hang's photography fearlessly portrays the human body in it's purest form, with a signature experimental aesthetic. I truly admire his way of present women and men and at times surreal, there is no stereotype and boundary between genders. That is highly explicit, featuring nude group and solo portraits of men and women often contorted into highly performative positions. 
Phoebe Philo
The reason I found Phoebe Philo's designs inspirational, it's because she always creating lines of clothing that are fresh, unconventional, totally modern, elegantly sexy, visually surprising, and perfectly classic in an understated Parisian way that I like and admire. Phoebe is always her own best model, designing clothes that suit wherever she happens to be in life. She has long been an inspiration to the legions of women, young and old, who want to be just like her, while designing the clothes women
actually want to wear in their daily life.
When Phoebe Philo research the variety of fabrics, she used to find that reassuring to use fabrics that perform in a very honest, straightforward way, likes fabrics that are what they are, comforting and inspiring. She always into the idea of protecting a sense of the core, a Céline hand based in classicism. It's Philo's sensibility that holds the most attraction, and also the most mystery.Céline doesn't have a history of an iconic designer or much of an archive, so it can be difficult for designers to step into someone else's shoes. But for Phoebe, Céline was a clean slate to express her talent.
Marina Abramovic and Ulay
Ulay / Marina Abramovic, Imponderabilia, 1977, Performance, 90 minute
Ulay / Marina Abramovic, Relation in Time, 1977
Except for the concept of Imponderabilia that Marina Abramovic and Ulay wanted to express, and link this artwork to my project "Feminism". I think this work really express what I thought about the equal right between male and female. People always think women shouldn't wear provocatively because that will let themselves be in a dangerous situation, such as sexual assault or verbal harassment. But they never think about the motivation of the aggressor and why "sexy" appreal causes the negative condition to women instead of men. In my point of view, I think this is the effect of the over sexualized world and the porn industry which influenced the mind of the general public which resulted in everyone thinking of women as sexual objects. Which brings me back to Marina Abramovic's work.
Imponderabilia, this is a truly intriguing piece of performance where Marina and Ulay stood face to face naked and blockaded the entrance of the Galleria d'arte moderna Bologna. The visitors had to squeeze through them, making such close physical contact with a stranger is considered very abnormal and uncomfortable. This work is more about the art of getting the visitors involved as part of the performance and to explore with the experience with the sense of touch more than it relates to my theme. However, the intresting observation i made on this work is that male visitors almost all passed facing Marina and female visitors passed straightly or towards Ulay. I think this is an interesting decision made by the instincts of a human's mind. Male attracted to female and female attracted towards male. 
Relation in Time
Marina and Ulay sat back to back against each other and was connected by their hair for seventeen hours. There must be a flow of harmony within the artist because the seventeen hour sit required a lot of mental and physical stamina. I read this work as a balance of power like ying and yang, the female energy and the male energy, both trying to reach a state of tranquility. This work goes deeper in the realms of spirituality. like melting female into male and male into female which would result in an absolute balance.
Leigh Bowery
I'm attracted by how he played crazy with the faces and photograph them down, I would like to experiment with this because it is also a way to play with your look by disguising the real self with makeups, this had made me think about graphic composition because it is a way to change people's appearance.
Leigh Bowery challenged social stereotypes turning his body into every changing, ever challenging work of art. He used his body as a canvas and inscribed narratives upon it. He used these stories to challenge the dominant discourse, offering himself as material evidence to facilitate new perspectives. His body became a performance, the self as performance, one that was not entirely pre-determined, for you never knew what he would do next, what social outrage he would offer up.
Louise Bourgeiois
Louise Bourgeois' works are monumental for the advancement of modern art, her sculptures and installations have gave me lots of inspiration. Louise Bourgeois is an artist that focuses on very personal subjects in  her work, mainly  her childhood memory. Including her portraying her tyrannical father and protective mother as motives in her work. Her work focusers alot on the emotional level and creates a strong thematic experience for the viewers.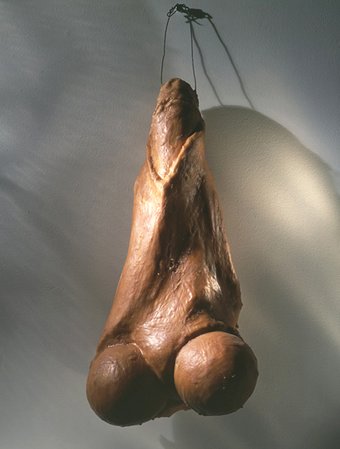 Fillette, 1986
The title of this work means little girl, it is a sculptural form which creates an unusual juxtaposition of the male and female organs, breasts and penis together. They are morphed geniusly so that it is very hard to tell what they actually are, in instance, the testicles could been seen as breasts and the upper part could be seen as a neck. The work has a strong feminist context and challenges viewer's perception which i find inspiring. This work inspired me to work with juxtaposing materials and meanings in a work.
The Destruction of The father, 1974.
This was Bourgeois' first installation work. The space is compressed into a claustrophobic space where the dinner table is the focus. Bourgeois mentioned that her father would always brag around during dinner time, the whole ambiance of the piece gives us the feeling of oppression and violence, which invites the audience to witness this scene where her father gets killed. An underlying motif in her work. This work teaches me how to explore space in my work, a thing that i have yet to do, i could create a space for my future womenswear work as well.